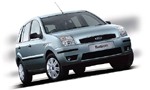 Madrid car hire
Here are our prices available for car hire Madrid, Spain.
Also available rates for car hire Madrid Airport.
Convenience & Service
Our main two priorities are convenience and service. Our booking process is very easy, simply choose your travel dates, pick your desired model and fill in the booking form, including payment details. In a few minutes you will receive a confirmation voucher that will be required upon your arrival.
Car hire Madrid
Madrid - Downtown
The capital of Spain is a Cosmopolitan city that combines the most recent infrastructures and its condition of economic, financial and administrative centre with an immense cultural and artistic patrimony of long centuries.
Situated in the geographic centre of the peninsula and being the capital since 1561, Madrid conserves one of the most important historic quarters of the mayor cities in Europe. The Plaza Mayor, inaugurated in 1620 is one of the most popular and typical of Spain. Close to the Plaza Mayor we find the "Aristocratic Centre" with the Palacio Real; next to it, la Plaza del Oriente, el Teatro de la Ópera. The Puerta del Sol surrounded by a selected and varied commercial zone and the "Paseo del Arte" with its incomparable Museums, Palaces and Gardens.
Art and culture occupy an outstanding position in Madrid´s agenda. The capital has a total of 73 Museums that contain all human knowledge. We would like to mention especially the Museo del Prado, the Museo Thyssen-Bornemisza and the Centro Nacional de Arte de Reina Sofia.
Extensive and very well taken care of gardens like the Parque del Retiro, la Casa del Campo, and the Parque Juan Carlos I permit to enjoy the good weather, go for a walk or take a ride in a boat in one of the greenest capitals of Europe.
If there is something that characterizes Madrid, it's the deep and contagious passion for life which is reflected in the friendly character of the people. Concerts, Expositions, Ballets, Theatre, Cinema Premieres, the best national and international Cuisine, the Bars and Tabernas are some of the leisure time alternatives of this city.
The animated nightlife is as well an important appeal of the capital of Spain due to its variety and good ambience of its bars, pubs, discotheques and Tablaos Flamencos that can be alternated during the day with the traditional verbenas, the popular celebrations or the bullfighting celebrations of San Isidro which is considered to be the most important of the world.