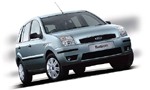 Madrid airport car hire
Now you can get a quote for car hire Madrid airport.
Also available rates for car hire Madrid.
Convenience & Service
Our main two priorities are convenience and service. Our booking process is very easy, simply choose your travel dates, pick your desired model and fill in the booking form, including payment details. In a few minutes you will receive a confirmation voucher that will be required upon your arrival.
Car hire Madrid airport
Madrid Airport
Location of the Airport:
Madrid-Barajas Airport is situated eight miles to the northeast of the city of Madrid.
Traveling to and from the Airport:
Madrid-Barajas Airport is connected by motorway to Madrid's main access and ring roads: A-2 (Madrid-Barcelona motorway), A-1 (Madrid-Burgos motorway), M-40 (Madrid ring road), M-11 (access motorway to the airport),  M-12 (North-South Line: toll motorway with direct access to T4), M-13 (East-West Line: joins up with the M-14 and M-12), M-14 (Trunk road: has direct access to the terminals T1, T2 and T3, from the M-40 and A 2, and to T4 via the connection with the M-13), R-2 (toll motorway between Guadalajara and the M-40).
Buses:
There is a great number of City Buses and intercity buses. Consult timetables and fares at Empresa Municipal de Transportes de Madrid. There is as well a connection between terminals providing free passenger transport before check-in.
Train:
The Spanish Railway Network (RENFE) does connect directly with the Airport Madrid-Barajas. Nevertheless, the mayor the long-distance, AVE and suburban train stations Atocha, Chamartín and Nuevos Ministerios are accessible in just a few minutes using the Underground.
Suburban trains:
Madrid has a network of suburban trains that link up with the Underground network. In the arrivals zone of T1 (ground floor) there is a RENFE (Spanish railway network) office. There you can obtain information about the railway network and make reservations or buy long distance and high speed (AVE) train tickets.
Subway:
Line 8: Nuevos Ministerios-Airport T4
Consult timetables and fares at Madrid Underground
Price: It is necessary to pay extra to enter and exit the airport stations (T1, 2, 3 and T4). The amount is 1 €.
Nuevos Ministerios
The transportation hub connects with fifty Underground stations by means of lines 6 (Circular), 8 (Nuevos Ministerios-Airport T4) and 10 (Hospital Infanta Sofía -Puerta del Sur).
Consult timetables and fares at Madrid Underground.
Taxi:
Minimum fee: Monday to Sunday, from 6:00 to 22:00: 2.05 €. On working days, from 06:00 to 22:00, 0.98 €/km in zone A; 1.15 €/km in zone B.
Supplements: Journeys beginning or ending at the airport: 5,50 €.
Journeys originating or ending at bus stations, train stations or the Parque Ferial Juan Carlos I (IFEMA) fairs complex: 2.95 €.
Madrid Barajas Airport Terminal Information:
Following Aena's policy of ensuring that adequate attention is given to accessibility requirements and support for the disabled, Madrid-Barajas airport endeavors to make its facilities accessible for passengers with disabilities. Another of the specific actions carried out at Madrid-Barajas airport has been a personalized support service for visually impaired passengers, which provides flight status information via mobile telephone messaging. The system works as follows: Passengers must request the service, either before arrival at the airport or when checking in for their flights.
Information Desk:
You find the Aena Information desk and an Iberia Information Service both on the ground floor in the main Hall.
There are two tourist offices. The first is located in the T1 arrivals lobby, and the second in the T4 baggage reclaim halls.
Shopping:
Madrid Barajas has plenty of shopping opportunities as for instance Duty free, Jewellery and Costume Jewellery, Fashion and Accessories, Perfumery and Cosmetics, Press, Gifts and Home, Bars and Cafeterias, Restaurants and Fast Food.
Other Facilities:
Car rental at Madrid Airport, Tour operators, Travel agencies, Banking services, Meeting room, First Aid, Lost & Found, Playground, Chapels, Mezquita, Post office, Defibrillator, Tobacconists, Nursery, Unaccompanied children´s Lounge, Police stations, Smoking points, RENFE (Spanish National Railway Network) office: Information and ticket sales, Medical service (Apart from first aid, the T2 and T4 medical service also has a space reserved for transit passengers who require medical assistance) and Pharmacy.
Passengers will find wireless internet access at the Madrid-Barajas airport through the Vodafone concessionaire. The access points are located in all the T4 and T4S and in the VIP lounges and in the catering areas of T1, T2 and T3.
There are three left-luggage offices at the airport: the first in T1, the second in T2 and the third in T4. All baggage left at the left-luggage office passes through an x-ray checkpoint to verify that they do not contain dangerous items or objects.
Price for locker rental: part or whole of one day: 3.83 €; from two to fifteen days: large locker: 4.92 €; small locker: 3.83 €. Storage from day fifteen on: 1,97 €. Transfer to the warehouse: 39.34 €. Special baggage 4,78 €. There are lockers specifically designed to deposit large objects such as bicycles, surfboards, etc.
Lost luggage:
Lost luggage can be claimed in the offices of the handling companies in the baggage reclaim areas of the terminal.
Public car park:
There are seven public car parks with together more than 14.500 spaces: Car parks P1, P2 and P4 (located in terminal buildings T1, T2/3 and T4 respectively); the short stay car park (T2); the VIP car park for T1, T2 and T3, the VIP car park for T4 and a long-stay car park.
Price: Until 30 minutes: 0.021 €/min; from 31 minutes to 60 minutes: 0.033 €/min; from 61 minutes: 0.027 €/min. Maximum daily rate up to 4 days: 18.00 €; maximum daily rate from fifth day: 14.40 €.
Long-stay car park:
It is located on the Avenida de Logroño, outside the airport grounds. It is necessary to book before accessing the grounds and the stay must be prepaid. There is a free bus service to transfer clients to the airport terminals.
The continuous bus service runs from 07:00 to 24:00. Waiting times are less than 10 minutes. From 00:00 to 07:00, service can be requested by using the interphones located at the five bus-stops inside the car park (for users who need transferring to the terminals) and at the T1, T2 and T3 arrivals (for users who need to recover their vehicles).
Information and booking: Parking spaces can be reserved by telephone (913 936 937) or www.reservarparking.com/en.
VIP car park (T4)
Location: In P4, module A, and in P11. Cars are returned and collected at the meeting points indicated. Additional services, such as car-washing, oil-change, small repairs and services etc., are also provided.
Information and reservations: parking.aena-aeropuertos.es

Further information:
Website: www.aena.es
Customer assistance: 902 404 704
For any suggestions or complaints: clientesmad@aena.es.
Buzz carhire.com Special recommendation:
Natural Park Cuenca Alta del Manzanares (Manzanares el Real)
The mayor protected space of the province lays around the large reservoir of Santanilla and includes some smaller mountain formations as the Hoyo de Manzanares and especially La Pedriza with its impressing rock bulks.
San Lorenzo del Escorial
As a traditional summer residence for the people of Madrid, this village has acquired a certain prestige which you can see walking along the Calle Floridablanca with its Café Miranda or the baroque Theatre of Carlos III. But really spectacular is the well known Monastery built under Felipe II that holds many legends and a certain fame as esoteric building. The magnificence of the grouping of Library, Basilica, Museum, Patios and Gardens is worthwhile an extensive visit.