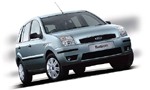 Jerez airport car hire
Now you can get a quote for car hire Jerez airport.
Also available rates for car hire Jerez.
Convenience & Service
Our main two priorities are convenience and service. Our booking process is very easy, simply choose your travel dates, pick your desired model and fill in the booking form, including payment details. In a few minutes you will receive a confirmation voucher that will be required upon your arrival.
Car hire Jerez airport
Jerez Airport
Location of the Airport:
Jerez Airport is located in the city limits of Jerez de la Frontera, in the province of Cadiz, 5 miles northeast of Jerez City.
Traveling to and from the Airport:
Travelers can access the airport from the national roads N-IV and N-346.
Buses:
Route M-050: Cadiz - Jerez - Airport
Journey duration: Approximately 1 hour and 15 minutes from Cadiz and half an hour from Jerez.
Route M-051: Cádiz - El Puerto de Santa María - Jerez - Airport
Journey duration: Approximately 90 minutes.
Route M-561: Costa Ballena (Rota) - Jerez - Airport
Journey duration: Approximately 40 minutes.
For more information on times and prices consult the website of Bahía de Cádiz Transport Consortium.Telephone: 902 450 550
Taxi:
Fares: Monday to Friday from 07.00 to 22.00, approximate prices: Jerez: 12.50 €; Algeciras: 145.92 €; Cadiz: 48€; El Puerto de Santa María, 25.92€.
Jerez Airport Information Desk:
You find Aena Information service and two Jerez city council tourist information desks on the ground floor.
Jerez Airport Facilities:
Request the support service for persons with reduced mobility on our website at least 48 hours in advance. Remember that you must always report your needs to the airline in order to ensure your seat on the plane. Aena also places a telephone helpline at your disposal which will attend your reduced mobility needs 24 hours a day. Telephone (+34) 902 404 704

Shopping:
There are two airport shops and one Bar-Cafeteria.
Other Facilities:
Car rental at Jerez Airport, Tour operators, Travel agencies, Banking services, First Aid and Lost & Found.
Lost luggage:
Lost luggage can be claimed in the offices of the handling companies (Iberia Handling, telephone 956 150 010) in the baggage reclaim areas of the terminal.
Car parking:
Jerez Airport has two public car parks with a total of more than 1.000 spaces. Rates: Until 30 minutes: 0.014 €/min; from 31 to 60 minutes: 0.017 €/min; from 61 minutes onwards: 0.016 €/min; daily maximum up to four days 10.75 €; daily maximum as from the fifth day, 8.60 €.
Further information:
Website: www.aena.es
Customer assistance: 902 404 704.
For any suggestions or complaints: reclamacion_jerez@aena.es
Buzz carhire.com Special recommendation:
Natural Park of Alcornocales (Castellar de la Frontera)
This protected natural space is of one biggest the Alcornocales woods in the world. In its southern part it has some interesting narrow valley formations known as "canutos". There are growing some ancient vegetal species with great ecological value, as for instance the "Loro", an almost extinguished tree.
Cliffs of Barbate (Barbate)
An extended pine Wood with marked Footpaths and rests of Watchtowers brings us to these rocky cliffs that in November are colored in blue due to the blossoming of a particular Violet. The fissures and ledges give an excellent protection for numerous birds.